Here's our February 2021 Client Newsletter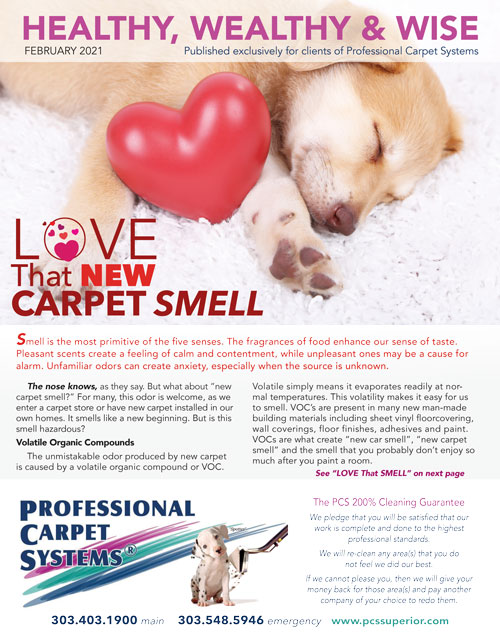 Click Here to Download the Entire Newsletter
LOVE That New Carpet Smell
Smell is the most primitive of the five senses. The fragrances of food enhance our sense of taste. Pleasant scents create a feeling of calm and contentment, while unpleasant ones may be a cause for alarm. Unfamiliar odors can create anxiety, especially when the source is unknown.
The nose knows, as they say. But what about "new carpet smell?" For many, this odor is welcome, as we enter a carpet store or have new carpet installed in our own homes. It smells like a new beginning. But is this smell hazardous? Volatile Organic Compounds
The unmistakable odor produced by new carpet is caused by a volatile organic compound or VOC. Volatile simply means it evaporates readily at normal temperatures. This volatility makes it easy for us to smell. VOC's are present in many new man-made building materials including sheet vinyl floorcovering, wall coverings, floor finishes, adhesives and paint. VOCs are what create "new car smell", "new carpet smell" and the smell that you probably don't enjoy so much after you paint a room.
There are many different types of VOCs but the one related to new carpet odor is 4-phenylcyclohexene (4-PCH), a by-product of the synthetic latex binders used to hold the carpet backing together. Although new carpet does produce this volatile organic compound, emissions from carpet as measured during EPA studies ranked among the lowest overall contributors to indoor air quality issues. Most of the VOCs present in carpet dissipate within 24-48 hours after installation. Ventilation during and after carpet installation helps to reduce that length of time. EPA Testing Several years ago, as the EPA was renovating its Washington DC headquarters, some employees complained that odor from the new carpet was making them sick with a variety of symptoms including respiratory irritation, headaches and general malaise. The EPA enlisted help from carpet and latex manufacturers to investigate the complaints. Following laboratory testing and extensive government agency review, no connection between 4-PCH and any kind of adverse human health outcome could be established. As a result, the EPA describes 4-PCH as an "unremarkable chemical."
Many people have the belief that "new carpet odor" is caused by formaldehyde used in the production of carpet. Research conducted by the School of Textile Engineering, Georgia Institute of Technology dispelled this widely held myth. Current industry standards are in place so that all new carpet produced is monitored for this chemical. Formaldehyde has not been used in the production of carpet in the United States for decades. Latex Issues What about people who are allergic to latex? The latex used in modern carpet is synthetic and not linked with the allergic reactions caused by proteins found in natural latex. All of the materials used in the manufacture of carpeting are primarily the same harmless materials found in clothing, furniture and bedding. Nylon, polypropylene, polyester and wool constitute the majority of the components found in carpet.
So the conclusion is that there is no evidence that new carpet odor is a cause for alarm. However, since odors can create different reactions in individuals, it makes sense to address any complaints to prevent discomfort. As mentioned earlier, ventilating the structure during and after installation is the best way to reduce the buildup of 4-PCH in the indoor environment.
Contact Professional Carpet Systems today for more tips, help or to schedule your next appointment.