Happy New Year!  Here's our January 2020 client newsletter.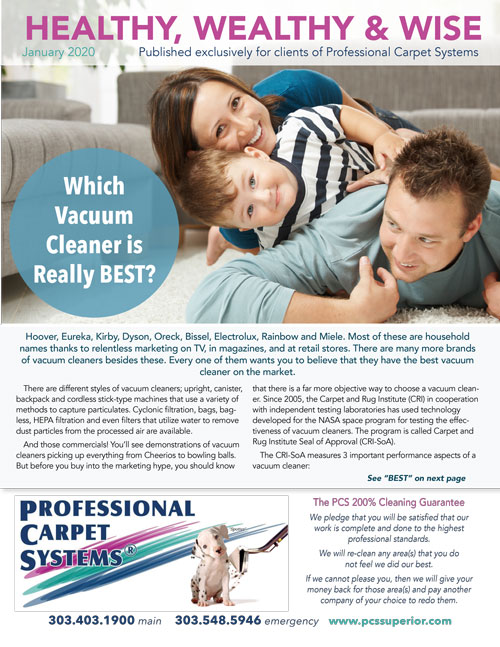 Click here to see the full newsletter
Which Vacuum Cleaner is Really BEST?
Hoover, Eureka, Kirby, Dyson, Oreck, Bissel, Electrolux, Rainbow and Miele. Most of these are household names thanks to relentless marketing on TV, in magazines, and at retail stores. There are many more brands of vacuum cleaners besides these. Every one of them wants you to believe that they have the best vacuum cleaner on the market.
There are different styles of vacuum cleaners; upright, canister, backpack and cordless stick-type machines that use a variety of methods to capture particulates. Cyclonic filtration, bags, bagless, HEPA filtration and even filters that utilize water to remove dust particles from the processed air are available.
And those commercials! You'll see demonstrations of vacuum cleaners picking up everything from Cheerios to bowling balls. But before you buy into the marketing hype, you should know that there is a far more objective way to choose a vacuum cleaner. Since 2005, the Carpet and Rug Institute (CRI) in cooperation with independent testing laboratories has used technology developed for the NASA space program for testing the effectiveness of vacuum cleaners. The program is called Carpet and Rug Institute Seal of Approval (CRI-SoA).
The CRI-SoA measures 3 important performance aspects of a vacuum cleaner:
Soil Removal Standard — CRI uses NASA-enhanced x-ray fluorescence technology to measure the precise amount of soil removed from carpet. The vacuum cleaner must remove at least 40% of the test soil to be considered for CRI-SOA. Higher soil removal efficiency makes the vacuum cleaner eligible for a higher rating.
Dust Containment Standard — The vacuum must not release more than 100 micrograms of dust particles per cubic meter of air (100 µg/m3), keeping dirt and dust locked tight in the vacuum — not escaping back into the air where it can be inhaled. To achieve Gold rating, the vacuum cleaner must not release more than 35 µg/m3.
Texture Protection Standard — The vacuum must not affect the texture of the carpet after 900 passes. If the roller brush or beater bar is too aggressive, permanent damage can occur. If the vacuum cleaner fails to pass this test, it will not be considered for the CRI-SOA program.
The results of this testing are available online at the CRI website (carpet-rug.org). Some of the other considerations are the style of the vacuum cleaner that best suits your needs. Dual-motor uprights with on-board attachments are the most popular because they offer the most versatility, but they can be somewhat heavy to use. Canister vacuums usually have better suction and can be easier to use, but they are not as easy to store. Pulling the canister behind you might be a bit of a pain in larger homes.
Bagless machines generally do not retain particles as well as machines with bags. The quality of the bag is also important; some bags filter better than others. Then there is additional filtration with many models boasting HEPA (High Efficiency Particulate Air) filtration. HEPA filters remove 99.97% of all particles at .3 microns. Air that passes through the HEPA filter has been effectively cleaned of particles that can aggravate respiratory symptoms from allergies and asthma.
In order to get the best performance out of your vacuum cleaner, replace bags and filters according to manufacturer's recommendations. Replace belts and roller brushes or beater bars when they become worn. Every year or two, have your vacuum cleaner serviced by a qualified technician so that you can keep getting the most out of your carpet investment.
Call Professional Carpet Systems for more tips, recommendations or to schedule your next cleaning.