Here's our October 2017 Client Newsletter.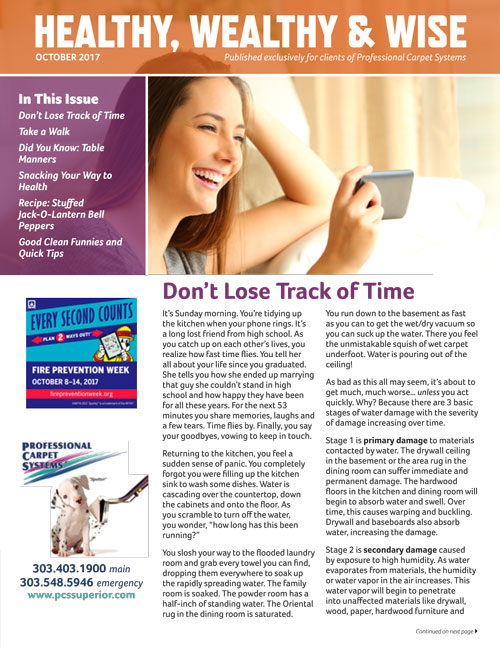 Click Here to see the Newsletter
Don't Lose Track of Time
It's Sunday morning. You're tidying up the kitchen when your phone rings. It's a long lost friend from high school. As you catch up on each other's lives, you realize how fast time flies. You tell her all about your life since you graduated. She tells you how she ended up marrying that guy she couldn't stand in high school and how happy they have been for all these years. For the next 53 minutes you share memories, laughs and a few tears. Time flies by. Finally, you say your goodbyes, vowing to keep in touch.
Returning to the kitchen, you feel a sudden sense of panic. You completely forgot you were filling up the kitchen sink to wash some dishes. Water is cascading over the countertop, down the cabinets and onto the floor. As you scramble to turn off the water, you wonder, "how long has this been running?"
You slosh your way to the flooded laundry room and grab every towel you can find, dropping them everywhere to soak up the rapidly spreading water. The family room is soaked. The powder room has a half-inch of standing water. The Oriental rug in the dining room is saturated.
You run down to the basement as fast as you can to get the wet/dry vacuum so you can suck up the water. There you feel the unmistakable squish of wet carpet underfoot. Water is pouring out of the ceiling!
As bad as this all may seem, it's about to get much, much worse… unless you act quickly. Why? Because there are 3 basic stages of water damage with the severity of damage increasing over time.
Stage 1 is primary damage to materials contacted by water. The drywall ceiling in the basement or the area rug in the dining room can suffer immediate and permanent damage. The hardwood floors in the kitchen and dining room will begin to absorb water and swell. Over time, this causes warping and buckling. Drywall and baseboards also absorb water, increasing the damage.
Stage 2 is secondary damage caused by exposure to high humidity. As water evaporates from materials, the humidity or water vapor in the air increases. This water vapor will begin to penetrate into unaffected materials like drywall, wood, paper, hardwood furniture and even leather. Given enough time, high humidity can cause swelling, splitting and warping of cabinets, molding and furnishings.
Stage 3 is microbial growth. Bacteria and mold spores are always present. But if you add water or abnormally high humidity, these microbes begin to flourish. Depending on temperature, bacterial growth can cause a sour odor within just a few hours. The "mildew" odor that many people associate with wet laundry is actually caused by bacteria, not mildew.
Mold requires more time to become active and begin to grow. Under optimal conditions, some species of mold become visible in 48-72 hours. Once mold begins to grow there is risk to your family's health. Unless the materials are dried and the humidity is controlled, mold spreads and contaminates large areas of the home. Left untreated, mold can grow on the insides of walls, under and behind cabinets and in other hidden portions of the house, causing thousands of dollars in property damage.
Because of the progressive nature of water damage, it is important to act quickly. Every minute that passes only increases the damage. We hope you never have the misfortune of water damage in your home or business. But if you do, don't waste time. Call Professional Carpet Systems immediately. We will limit the damage and get your home clean and dry quickly.