Here's our client newsletter for June 2016.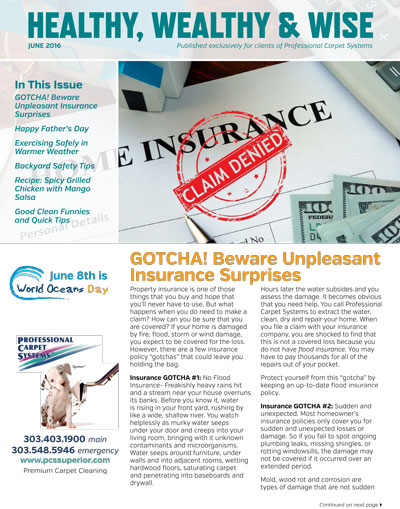 GOTCHA!  Beware Unpleasant Insurance Surprises
Property insurance is one of those things that you buy and hope that you'll never have to use. But what happens when you do need to make a claim? How can you be sure that you are covered? If your home is damaged by fire, flood, storm or wind damage, you expect to be covered for the loss. However, there are a few insurance policy "gotchas" that could leave you holding the bag.
Insurance GOTCHA #1: No Flood Insurance- Freakishly heavy rains hit and a stream near your house overruns its banks. Before you know it, water is rising in your front yard, rushing by like a wide, shallow river. You watch helplessly as murky water seeps under your door and creeps into your living room, bringing with it unknown contaminants and microorganisms. Water seeps around furniture, under walls and into adjacent rooms, wetting hardwood floors, saturating carpet and penetrating into baseboards and drywall.
Hours later the water subsides and you assess the damage. It becomes obvious that you need help. You call Professional Carpet Systems to extract the water, clean, dry and repair your home. When you file a claim with your insurance company, you are shocked to find that this is not a covered loss because you do not have flood insurance. You may have to pay thousands for all of the repairs out of your pocket. Protect yourself from this "gotcha" by keeping an up-to-date flood insurance policy.
Insurance GOTCHA #2: Sudden and unexpected. Most homeowner's insurance policies only cover you for sudden and unexpected losses or damage. So if you fail to spot ongoing plumbing leaks, missing shingles, or rotting windowsills, the damage may not be covered if it occurred over an extended period. Mold, wood rot and corrosion are types of damage that are not sudden and unexpected. Your insurance company may consider them deferred maintenance or negligence. You should periodically inspect your home and fix those little issues that can become major problems.
Insurance GOTCHA #3: Building code upgrades. If your home suffers fire or storm damage requiring structural repairs, a building permit and inspections may be required in order to have the work completed. When these repairs are done, there is a chance that your home will need to be brought "up to code". This could include electrical, structural, plumbing, heating and air conditioning upgrades and improvements that could run into tens of thousands of dollars or more. Some policies exclude building code compliance upgrades. Does yours?
Insurance GOTCHA #4: Sewer or septic backflow. It's nasty. It's smelly. It's not covered? When your fresh water plumbing, icemaker line or water heater leaks, it is called a water intrusion and is usually covered by insurance. However, when water backflows into a building from a sewer line or septic tank, it is rarely covered by basic homeowners insurance. You need a separate policy or "rider" to cover damage caused by sewage backflow. Sewage backflows are significantly more costly to mitigate than clean water intrusions. You do not want to pay for this kind of loss out-ofpocket. Remember, the purpose of property insurance is to protect you in the event of a large loss. Don't skimp on your policy and leave yourself exposed. Talk to your insurance agent about additional insurance to cover these and other "gotchas". It may increase your insurance premiums a little bit, but it could turn out to be one of the smartest investments you'll ever make.