Here's our October 2016 Client Newsletter.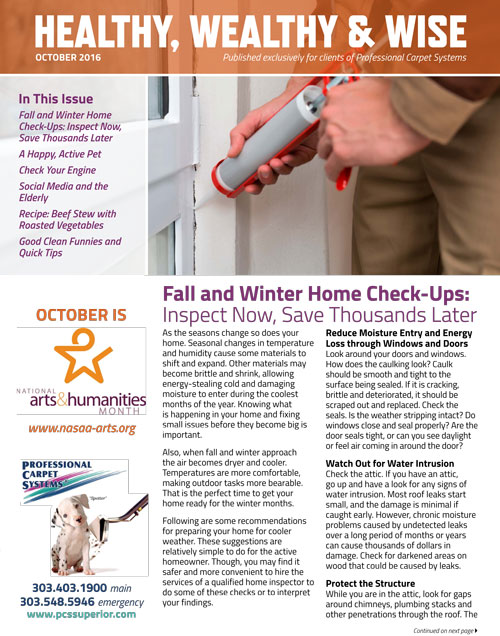 Fall and Winter Home Check-Ups:
Inspect Now, Save Thousands Later
As the seasons change so does your home. Seasonal changes in temperature and humidity cause some materials to shift and expand. Other materials may become brittle and shrink, allowing energy-stealing cold and damaging moisture to enter during the coolest months of the year. Knowing what is happening in your home and fixing small issues before they become big is important. Also, when fall and winter approach the air becomes dryer and cooler. Temperatures are more comfortable, making outdoor tasks more bearable. That is the perfect time to get your home ready for the winter months.
Following are some recommendations for preparing your home for cooler weather. These suggestions are relatively simple to do for the active homeowner. Though, you may find it safer and more convenient to hire the services of a qualified home inspector to do some of these checks or to interpret your findings.
Reduce Moisture Entry and Energy Loss through Windows and Doors Look around your doors and windows. How does the caulking look? Caulk should be smooth and tight to the surface being sealed. If it is cracking, brittle and deteriorated, it should be scraped out and replaced. Check the seals. Is the weather stripping intact? Do windows close and seal properly? Are the door seals tight, or can you see daylight or feel air coming in around the door?
Watch Out for Water Intrusion Check the attic. If you have an attic, go up and have a look for any signs of water intrusion. Most roof leaks start small, and the damage is minimal if caught early. However, chronic moisture problems caused by undetected leaks over a long period of months or years can cause thousands of dollars in damage. Check for darkened areas on wood that could be caused by leaks. Protect the Structure While you are in the attic, look for gaps around chimneys, plumbing stacks and other penetrations through the roof.
The rubber seal around plumbing stacks is called a boot. An inexpensive "boot" replacement now may prevent very costly damage later. So look up from below the pipe and make sure daylight is not shining through; daylight might indicate a cracked boot. Also, take a look at the insulation and fill in any gaps where heat can escape. If your insulation is looking a bit thin, now would be a great time to add another layer.
Gutters are designed to capture and control water, directing it away from the structure. However, if gutters become clogged with leaves and other debris, water may overflow the gutters and enter behind fascia boards and even under shingles. This creates an environment for wood rot and mold.
If you have an unfinished basement or crawl space, check there for torn or missing insulation. If the vapor barrier on insulation is damaged, condensation can begin to form on the bottom of wood subfloors. This can result in mold growth and eventual wood rot. Use a flashlight and look for plumbing leaks, dark spots on wood, mold growth or any other indications of possible damage.
Get Help if You Need It.  You can go to the local home improvement store for additional advice, or seek the services of a qualified contractor to make necessary repairs. Doing this once a year can save you tens of thousands in repairs later. If you find substantial water damage or mold, call Professional Carpet Systems for a complete inspection and assessment. We are happy to help.