Here's our October 2018 Client Newsletter.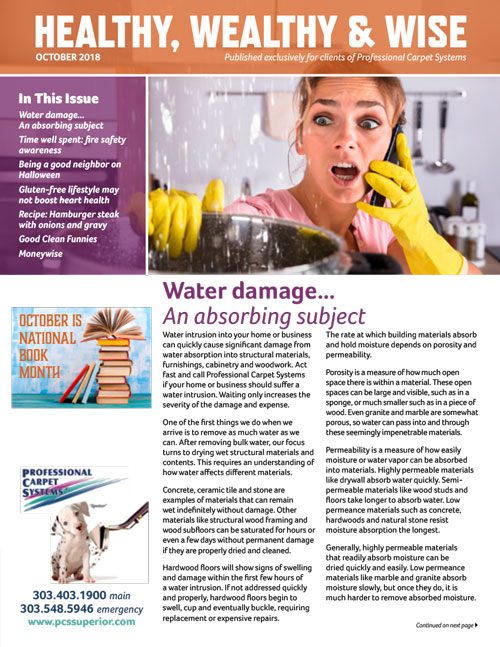 Click Here to see the full newsletter
Water Damage
An absorbing subject
Water intrusion into your home or business can quickly cause significant damage from water absorption into structural materials, furnishings, cabinetry, and woodwork. Act fast and call Professional Carpet Systems if your home or business should suffer a water intrusion. Waiting only increases the severity of the damage and expense.
One of the first things we do when we arrive is to remove as much water as we can. After removing bulk water, our focus turns to drying wet structural materials and contents. This requires an understanding of how water affects different materials.
Concrete, ceramic tile and stone are examples of materials that can remain wet indefinitely without damage. Other materials like structural wood framing and wood subfloors can be saturated for hours or even a few days without permanent damage if they are properly dried and cleaned.
Hardwood floors will show signs of swelling and damage within the first few hours of a water intrusion. If not addressed quickly and properly, hardwood floors begin to swell, cup and eventually buckle, requiring replacement or expensive repairs.
The rate at which building materials absorb and hold moisture depends on porosity and permeability.
Porosity is a measure of how much open space there is within a material. These open spaces can be large and visible, such as in a sponge, or much smaller such as in a piece of wood. Even granite and marble are somewhat porous, so water can pass into and through these seemingly impenetrable materials.
Permeability is a measure of how easily moisture or water vapor can be absorbed into materials. Highly permeable materials like drywall absorb water quickly. Semi-permeable materials like wood studs and floors take longer to absorb water. Low permeance materials such as concrete, hardwoods and natural stone resist moisture absorption the longest.
Generally, highly permeable materials that readily absorb moisture can be dried quickly and easily. Low permeance materials like marble and granite absorb moisture slowly, but once they do, it is much harder to remove absorbed moisture.
Drywall is very absorbent due its high permeability and porosity. Water on the floor can wick up two feet or more into drywall through capillary action. Absorbed water reduces the integrity of drywall making it soft and easily damaged.
Mold is another concern. Most drywall has a layer of thick paper on the outside. When drywall remains moist for an extended period, mold grows on the surface and inside wall cavities, creating a health risk to occupants in the building.
Structural wood can absorb up to 30% of its weight in water. If this water is removed quickly and properly, damage is minimal. Mold will begin to grow on wood that remains abnormally moist for an extended period. Drying materials as quickly as is practical minimizes damage and prevents mold growth.
Hardwood floors, cabinets and woodwork require special care.
Permanent damage such as shrinking, cracking and warping will occur if hardwood materials are dried too rapidly. We use specialized drying equipment and methods to remove moisture from these deeply saturated, low-permeance materials to avoid causing additional damage.
The trick in managing all of these drying challenges lies in understanding the different materials and how water affects and moves through them. We use electronic moisture meters to monitor material moisture content, surface temperatures, humidity levels and air temperature along with professional drying equipment. This level of expertise enables Professional Carpet Systems to dry structures and contents effectively, saving expensive replacement and rebuilding costs. That's why we should be your first call if your home or business ever suffers a water intrusion.